Welcome to the Central North Island of New Zealand, one of the prime trout fishing regions of the world.
New Zealand has superb trout fisheries, producing large wild brown and rainbow trout. You'll find the scenery of the back country rivers breath-taking, and the water crystal clear - providing excellent sight fishing. Combine this with the hospitality of the 'kiwi' people and you'll have an outstanding fly fishing New Zealand experience.
I have been guiding in the Taupo region for twelve years now, turning my passion into my occupation. I have been involved in outdoor adventure tourism for many years, guiding back country horse treks and I am a qualified rafting guide, with years of experience on the rivers of the central North Island. I am a member of the New Zealand Professional Fishing Guides Association, and endorse 'catch and release'.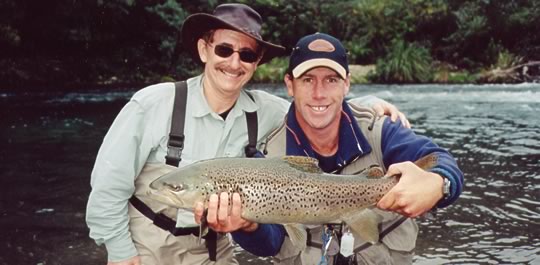 Browse through my web site - there are some tantalising photos in the gallery, and if you like, contact me. I promise that my experience and enjoyment of the sport will help you to achieve your ultimate day on the river.